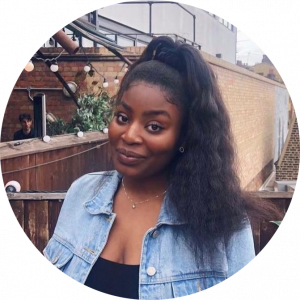 Can you tell us a little about yourself?
My name is Oladunni. I recently graduated from university where I studied International Media and Communications. I really enjoyed my course, but I think I'm ready to leave the comfort of education and enter the working world or as some may say 'start adulting'. As a person, I would describe myself as a creative; I'm someone who enjoys not only consuming but also creating cultural content.
How did you find out about Blackbridge and what was it like when you started with us?
I learned about Blackbridge through the 10,000 Black interns programme. I applied for this programme in early November last year and expressed on my application that I would be interested in working in the communications sector. They provided me with the chance to interview with Blackbridge, where I was fortunate enough to receive an offer for a position as a summer intern. I was quite anxious when I first started the internship because it was my first time working in an office setting. I had no idea what to expect or if I would be able to complete the tasks I had been assigned. But I quickly realised that this internship was a learning opportunity, and no one expected me to come already equipped with all the tricks of the trade.
What were the people like?
The people at Blackbridge were very friendly and I instantly felt welcomed and like part of the team. I spent the majority of my time with the client services team, who put in a lot of effort to make sure I could get the most out of this internship. For example, I would have daily catch ups with my mentors, where they'd make sure I was managing with the work I had and always provided support and guidance when I needed it. Additionally, the people at Blackbridge made an effort to find out about my hobbies and professional aspirations and matched me with departments inside the company they believed would help me advance throughout the internship. I was fortunate enough to also build friendships with team members after discovering we had similar interests, which always made going into the office a fun experience.
Talk us through a normal day at Blackbridge
It's difficult for me to describe a typical day at Blackbridge because every day is different. However, I will say that every day is interesting, you constantly have the chance to get to know new people from Blackbridge as well as clients, while participating in a wide range of projects. I also can't forget about the copious amounts of free mochas I drank throughout my time in the office.
Did you feel challenged in your internship?
Yes, there were definitely times on this internship where I felt challenged, for example when I was asked to see through a client deadline while my colleague was on leave. Initially, I had no idea how to go about this and tried to figure things out on my own. But when I eventually asked for guidance, I truly realised how understanding and willing to help everyone was. This gave me the confidence throughout the rest of my internship to not hesitate to ask for help when needed. Which made a world of difference when completing tasks.
What's the one lesson you will take away with you from your internship?
One of the lessons I learned from this internship is to not be afraid to make mistakes. When I first started working at Blackbridge, I found myself afraid to try new things, out of the fear of messing up. Looking back now I realise how silly that was and if I had kept in the same mindset then I would have never been able to learn even half of the things I have learnt now. And yes, there were instances where I did make mistakes, but I now see that this is not the be all and end all. These things can easily be fixed and navigated through, with the help of the team around you.
Do you have any advice for interns starting out?
Make the most out of the experience, ask questions, immerse yourself in the company you are working at and become part of the team. Because although you may only be there a short while, by doing this you can learn skills that will make a lasting impact on your future career. This experience has not only helped me grow in confidence but has also made me willing to take on any challenge thrown at me.